Solomon Islands

topographic map

Click on the map to display elevation.
About this map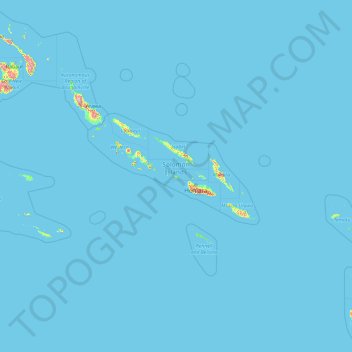 Minimum elevation: -1 m
Maximum elevation: 2,389 m
The culture of Solomon Islands reflects the extent of the differentiation and diversity among the groups living within the Solomon Islands archipelago, which lies within Melanesia in the Pacific Ocean, with the peoples distinguished by island, language, topography, and geography. The cultural area includes the nation state of Solomon Islands and the Bougainville Island, which is a part of Papua New Guinea. Solomon Islands includes some culturally Polynesian societies which lie outside the main region of Polynesian influence, known as the Polynesian Triangle. There are seven Polynesian outliers within the Solomon Islands: Anuta, Bellona, Ontong Java, Rennell, Sikaiana, Tikopia, and Vaeakau-Taumako. Solomon Islands arts and crafts cover a wide range of woven objects, carved wood, stone and shell artefacts in styles specific to different provinces..
Other topographic maps
Click on a map to view its topography, its elevation and its terrain.