Bagalkote

topographic map

Click on the map to display elevation.
About this map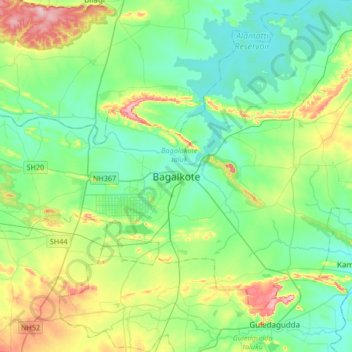 Minimum elevation: 504 m
Maximum elevation: 696 m
Bagalakote, is a city in the state of Karnataka, India, which is also the headquarters of Bagalakote district. It is situated on branch of River Ghataprabha about 481 km (299 mi) northwest of state capital Bengaluru, 410 km (255 mi) southwest of Hyderabad, and about 570 km (354 mi) southeast of Mumbai. The population of the urban agglomeration was 111,933 according to the provisional results of 2011 national census of India, and the city is spread over an area of 49.06 square kilometres (18.94 sq mi) with an average elevation of 532 m (1,745 ft) above MSL.